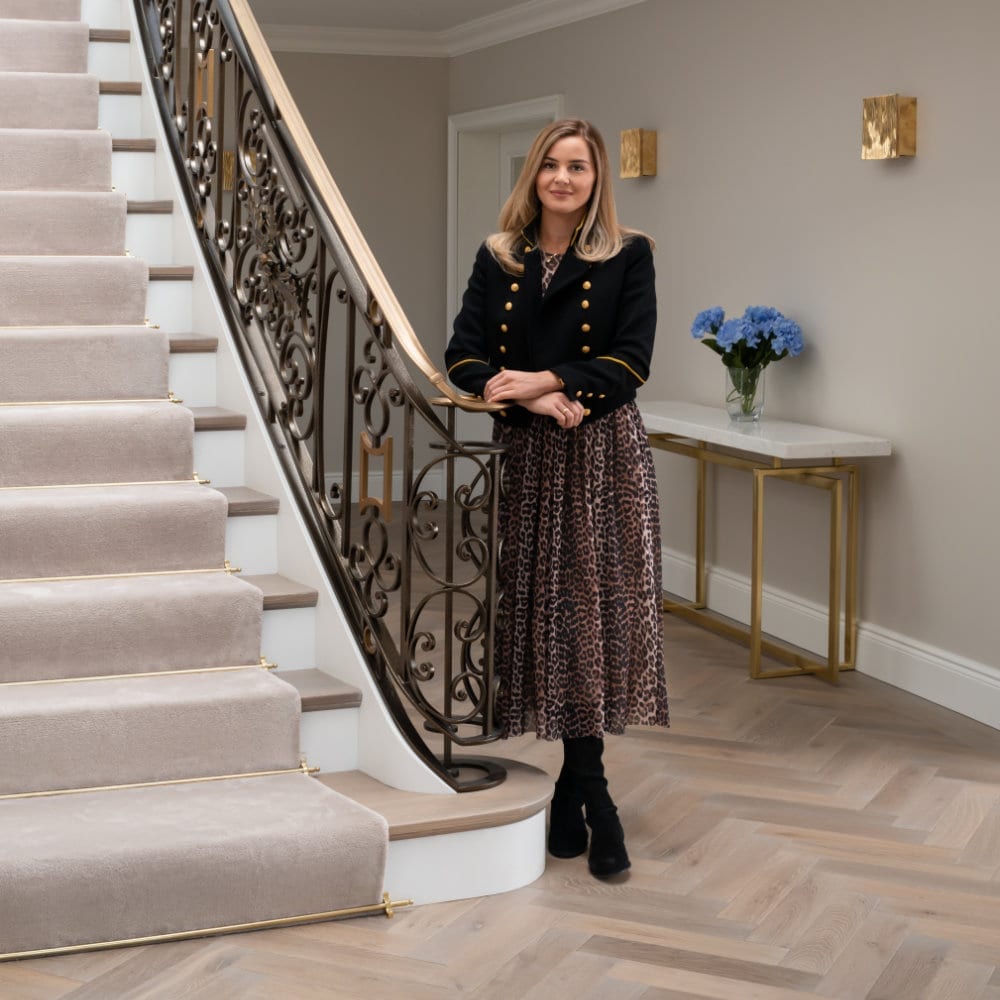 My love of Interior Design stems from a combined passion for architecture and how people live in a space.
Good design makes the difference between a house and a home. It combines the technical know-how to craft a space with a client's requirements to create a home which is both functional and appeals to the emotions.
Harriet Hughes Interior Design was founded with a vison to combine timeless elegance with contemporary and luxurious living. I have worked on a range of products, from city living in central London to a large five bedroom new build in Cheshire.
Comfort, sophistication
& practicality
My mission is 100% commitment to tailored interior design that enriches interior spaces through a highly skilled and personalised service for both residential and commercial clients.
At Harriet Hughes Interior Design, our passion is creating stunning interiors tailored around the clients' imagination, incorporating the needs of an individuals' everyday life. Our projects range from luxury developments to private residential homes, and other developments in both Central London and Manchester. Harriet Hughes Interior Design takes a classic, elegant approach to design and combines luxurious sophistication with optimum comfort for supreme functionality.
"Harriet was such a help when redesigning my kitchen/family room. She was able to bring new ideas and colour suggestions to the project and was most professional and conscientious. I would recommend her to anyone wishing to complete their interiors on time, within budget and sourcing product with style and flair."
"Harriet Hughes were enlisted to help us in the complete build of our new 10,000 sq ft house near Alderley Edge, Cheshire. Harriet worked diligently to guide and educate us on the many options and aspects of Interior Design. Her passion and flair for fashion and interiors is shown through the design of our furniture, colours and fabrics. Successfully sourcing the right manufacturers to meet our desire to create the house of our dreams. We would highly recommend Harriet for anyone embarking on a project of this size."
"Harriet Hughes Interior Design completed two bathrooms at our West London home, she successfully worked to our budget and created an elegant master suite as well as a downstairs cloakroom. We were over the moon with the level of communication and leading taste in design and would recommend her Interior Design services for any project size."
Full furnishing and decoration throughout a stunning 10,000 square foot new build home including extensive joinery and styling.
Full renovation of a two-bedroom apartment within Belgravia, with 'turn-key' decoration and styling.
An extensive renovation throughout a two-bedroom apartment in the heart of Notting Hill, London.
The complete restoration, of a beautiful Victorian Villa situated on the River Mersey.
This large family home was in need of a whole house transformation after being designed rather insensitively by a previous interior designer.